5 Types Of Toilet Flush Handles You Should Know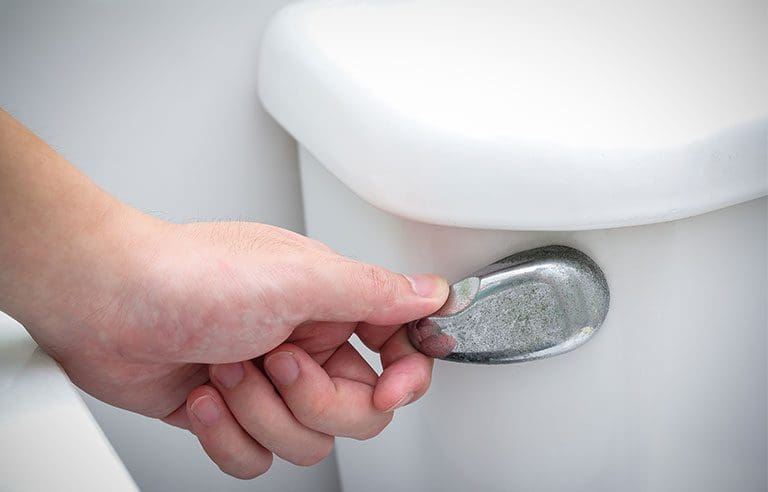 No matter how frustrating, a broken toilet handle or lever is a very typical plumbing issue. As toilet handles are so often used, they ultimately wear out and need to be replaced. The good news is that you probably don't need to call a plumber to fix this; in fact, most homeowners feel reasonably confident about handling this at-home repair themselves. However, if the problem persists after changing the handle, you may need to engage toilet repair services.
Making sure you select the proper replacement part will likely be your biggest challenge when trying to replace your toilet handle or lever. When buying toilet handles, like with any other plumbing element, there are a variety of options to consider. Here are the five most common types to know about:
Front-Mount Handle
The tank lid should be taken off and placed in a safe location on a towel. Be careful with it, as porcelain is fragile. In addition to the brand name on the outside, look for a model name or number printed inside the tank and note it down. When you buy a replacement handle, this can come in handy.
Side-Mount Handle
A side-mount handle protrudes from the side of the toilet tank. If it does so and is perpendicular to the wall behind the toilet, it is a very solid sign that you have such a handle. If you look closely at a side-mount handle, you will see that the flush rod fitting within the tank has been bent at a 90-degree angle, allowing the rod to pivot up and down when the handle lever is operated.
Although side-mount toilet handles are less common than front-mount knobs, you should be able to readily find one at any hardware or home improvement store.
Angle-Mount Handle
An angle-mount toilet handle is what you probably have when the shape of your toilet tank is a little more rounded than rectangular. It might be challenging to match up handles for angle-mount toilets because the angles can vary.
Some replacement handles come with a flush rod that is movable, enabling you to modify the angle of the rod to fit wherever the handle is mounted along the tank's curve. Bring the old handle with you to the store to acquire an exact match, or call the company that made your toilet to place an order for a replacement.
Universal Lever
As the name suggests, universal toilet levers are designed to be used as a replacement part for any modern toilet tank. To be sure the new universal lever will meet your requirements, as usual, while having your old part on hand.
Extended Long Reach Cistern Lever Handle
You can use extended long-reach cistern lever handles on covert or hidden cisterns (meaning the actual tank of the toilet is hidden behind a wall or other feature, and all you see is the seat). Extended long-reach cistern levers, unlike the earlier types of levers discussed, can be shortened to the required length simply by using a hacksaw or handsaw.
Think the issue goes beyond just a broken toilet handle? Made's Plumbing offers dependable, prompt service with a 100% satisfaction guarantee. Our team of highly qualified and experienced plumbers will ensure that any plumbing issue you have is resolved promptly. Engage our plumbing services today!